RObust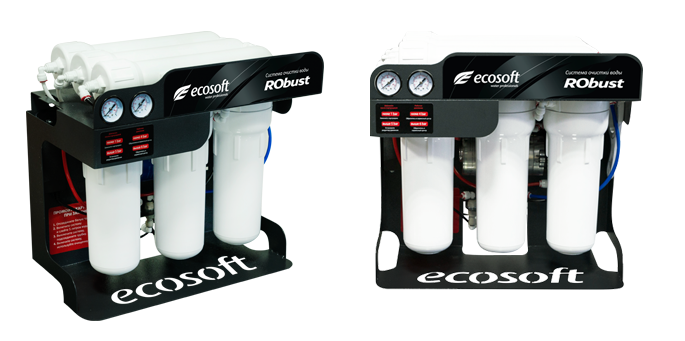 Applications: for water purification in cafes, restaurants, apartments, cottages, pharmacies, laboratories.
Removes: total dissolved solids, nitrates, chlorides, sulfates, hydrocarbonates and hardness.
Description: impurities present in water are removed during the contact with semipermeable membrane. Membrane passes water molecules and retains all the remained impurities. As a result two water streams are generated: purified water (permeate) and the concentrate that is discharged into the sewers. The feature of RObust system is that it include three Filmtec membranes with productivity of 100 GPD. Two of three membranes are connected in parallel and one is connected at the outlet of consecrate line of two previous. This technical solution provides high productivity of the system and minimizes the concentrate discharge.
Advantages:
pure water — highest degree of all impurities removing, including organic, inorganic substances and microorganisms
delicious water — improving of organoleptic water properties due to highly efficient coconut activated carbon on the last stage of the treatment
stability & efficiency — consistently high treatment efficiency and long service life due to application of membranes Filmtec (Dow Chemical)
ease to use — system include convenient connection bar with visualized icons and specific indicators that allow to monitor system performance and to change cartridges timely
system protection — progressive automation provides electrical protection of the pump from dry running
Specifications
Flow capacity, l/hour*
Water consumption during
operation, l/hour
Power supply
Power consumption, kW
Dimensions
(H x W x D), mm
60
120
220 V, 50 Hz
0,08
420 x 220 x 425
Influent limitations**
| | | | | |
| --- | --- | --- | --- | --- |
| Hardness — 28 0dH | Chlorine — 0,5 ppm | Iron — 0,3 ppm | Manganese — 0,1 ppm | COD — 20,0 ppm KMnO4 |
* Rated at: 25 °C and TDS of feed water 1000 ppm.
** Consult Ecosoft technical support for proper raw water pretreatment.