Ecosoft Twin Softening systems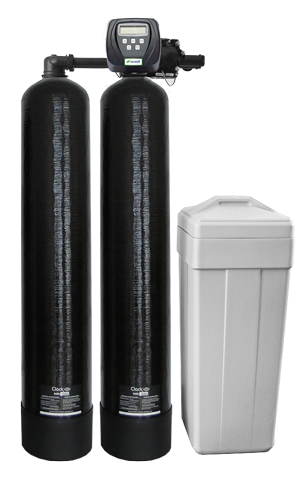 Purpose: commercial water treatment.
Filter media: cation exchange resin Dowex (Dow Chemical).
Control Valve: Clack WS1 CI.
Description: the principle of system work is based on conventional ion exchange softening process. Calcium and Magnesium ions are removed from the water instead of sodium ions during the contact with cation exchange resin. When the resource of filter media is exhausted brine regeneration is used for material properties restoring.
Advantages:
soft water – high efficiency softening due to use of high-capacity cation-exchangers
purified water for twenty-four-hour – TWIN solution provides a continuous supply of purified water
ease to use – progressive multifunctional control valve does not require the consumer participation
environmentally gentle – reduced wastewater disposal due to lower consumption of salt and water for regeneration
prolonged service life of filter media – up to 7 years
Specifications
| | | | | | |
| --- | --- | --- | --- | --- | --- |
| Model | Nominal flow rate, m3/h | Media volume, l | Capacity, kg CaCO3 per tank | Salt consumption for regeneration, kg | Water consumption for regeneration, m3 |
| FU 1035 TWIN | 2,0 | 50,0 | 1,25 | 2,5 | 0,25 |
| FU 1054 TWIN | 2,0 | 75,0 | 1,9 | 3,7 | 0,37 |
| FU 1252 TWIN | 3,0 | 100,0 | 2,5 | 6,2 | 0,62 |
| FU 1354 TWIN | 3,5 | 125,0 | 3,1 | 7,5 | 0,75 |
| FU 1465 TWIN | 4,0 | 150,0 | 3,75 | 10,0 | 1,0 |
| FU 1665 TWIN | 5,2 | 250,0 | 6,25 | 12,5 | 1,25 |
Influent limitations**
| | | |
| --- | --- | --- |
| Hardness — 28 0dH | Iron — 0,3 ppm | Manganese — 0,1 ppm |