Ecosoft Chemicals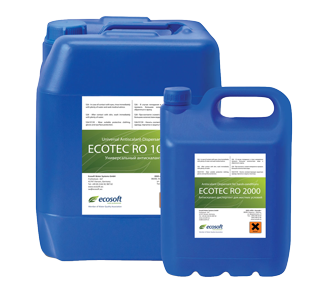 Ecosoft antiscalants
Applications: fouling control in reverse osmosis systems.
Description: highly efficient liquid formulations provide complex action on silica, sulfate and carbonate scale and disperse colloidal particles. Antiscalants protect membranes from inorganic fouling and disperse colloid particles. Prevention of salt deposits on the surface of the membrane allows to keep a consistently high quality of permeate for a long time.
Advantages:
Total protection — highly efficient control of different types of membranes fouling due to complex action
Compatibility — can be applied for all types of membrane elements
Recommended by Dow Chemical for use in systems with membrane elements Filmtec
Cost-saving — proven efficacy at low concentrations
Environment gentle — phosphorus-free, rapidly degrade to relatively non-toxic end products
Specifications
Product name
Type
Typical dosing, ppm
Specific gravity
pH
(10 % solution)
Ecotec RO 1000
Antiscalant /dispersant
5–10
1,08 ± 0,05
3,5–4,5
Ecotec RO 2000
Antiscalant /dispersant
5–15
1,1 ± 0,05
4,0–5,0
Ecotec RO 3010
Antiscalant /dispersant
(against iron species)
3–10
1,1 ± 0,05
3,8–4,8
Pails 5, 10, 20 kg
Drums 200–250 kg
Ecosoft biocides
Applications: microbial control in reverse osmosis systems.
Description: highly efficient liquid formulation for treatment and control of microbial fouling in membrane separation systems. Biocides possess excellent activity against wide spectrum of microorganisms, including Legionella Pneumophila and against biofilm. Applying of biocides provide efficient protection of membranes from biofouling and maintain their operational performance.
Advantages:
Total control – highly efficient control of all types of microorganisms and biofilm due to rapid and complex action
Compatibility – can be applied for all types of membrane elements
Recommended by Dow Chemical for use in systems with membrane elements Filmtec
Cost-saving – proven efficacy at low concentrations
Environment gentle – non-oxidizing, formaldehyde-free, rapidly degrade to relatively non-toxic end products
Specifications
Product name
Type
Typical dosing, ppm
Specific gravity
pH
(10 % solution)
Ecocide DB5 RO
Biocide
40–800
1,1 ± 0,05
2,0–4,0
Ecocide DB20 RO
Biocide
10–200
1,2 ± 0,05
2,0–4,0
Pails 5, 10, 20 kg
Drums 200–250 kg